Voters don't expect PM to make it to the next election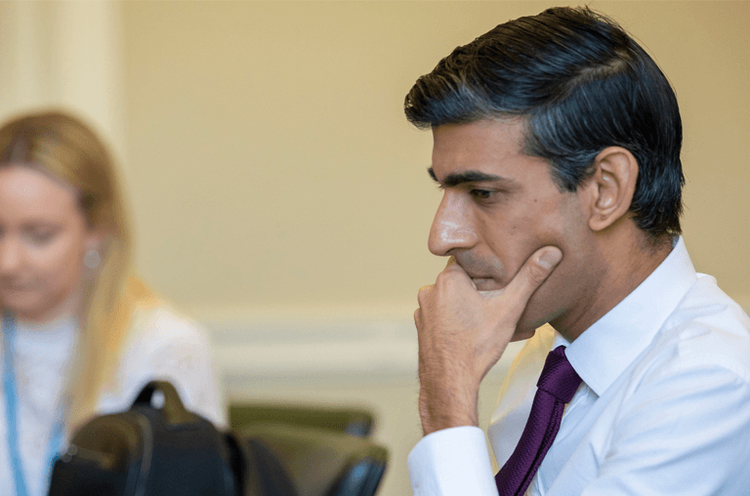 Two fifths of people don't think Rishi Sunak will be leading the Conservative Party into the next election following a bruising week for the beleaguered Tory leader, a new poll reveals. 
The latest WeThink poll also found more than half of voters think Mr Sunak is a weak leader who doesn't deliver on his promises, while nearly half say he has been undermined by his own party.
Diving into the details:
Pollsters found 39% of voters disagreed that Mr Sunak will be Prime Minister at the next election, with 28% agreeing, 20% saying neither and just 13% didn't know. 

A majority of 53% disagreed that Mr Sunak is a strong leader, with only 20% agreeing, 22% saying neither and 6% didn't know. 

Nearly half (45%) agreed Mr Sunak is being undermined by his own party, with only 16% disagreeing. 30% said neither and 9% didn't know.

And more than half (52%) disagreed that Mr Sunak delivers on his promises with only 19% agreeing he does deliver. 22% said neither and 6% didn't know.
TORIES IN TURMOIL?
It was a week in which Mr Sunak fired his Home Secretary and brought back former Tory PM David Cameron as Foreign Secretary in a major cabinet reshuffle. 
We asked if people agreed or disagreed that the Conservative Party was united. More than half of voters (52%) disagreed with only 17% agreeing, 22% saying neither and 7% didn't know.

A majority of 59% agreed the Tories were more concerned with internal issues than governing the country, with 14% disagreeing, 20% saying neither and 7% didn't know.

After the Supreme Court declared the Government's Rwanda policy unlawful, 46% of voters agreed it reduced the credibility of the Conservatives. 17% disagreed, 27% said neither and only 10% didn't know.

Despite this, a third of voters (33%) agreed that it would be right for the Government to pass an emergency law declaring Rwanda a safe country. 28% disagreed, 26% said neither and 13% didn't know. 
LABOUR LEADER OUT OF TOUCH WITH BRITS ON ISRAEL-HAMAS CONFLICT 
On the opposite side of the aisle, Labour leader Sir Keir Starmer this week backed a pause in fighting for aid to be delivered in the Israel-Hamas conflict, instead of voting for a ceasefire, sparking a revolt amongst his front-bench MPs.
WeThink asked if Brits think Mr Starmer is in or out of touch with Brits on the conflict. More than a third (35%) said he is out of touch, 26% said he was in touch while 39% didn't know.

And on his stance on the conflict, 41% of Brits agreed with Mr Starmer, 23% disagreed while 36% didn't know.
ON VOTER INTENTION
In our regular weekly voter intention trackers, Labour's lead over the Conservatives has dropped by four points to 20 while the Prime Minister's approval rating plunged by five to –24.
SIR KEIR STARMER APPROVAL
BREXIT TRACKER (All respondents)
19
Don't know / won't vote (+1)
BREXIT TRACKER (excluding don't know / won't vote)
This week's poll was conducted on 16th-17th November 2023, questioned 1,150 people and is weighted to a national representative population.
For all of WeThink's polling results and news, visit: www.wethink.report or follow WeThink on the following social media platforms: