Half of Brits want an 'immediate' general election, a new poll has revealed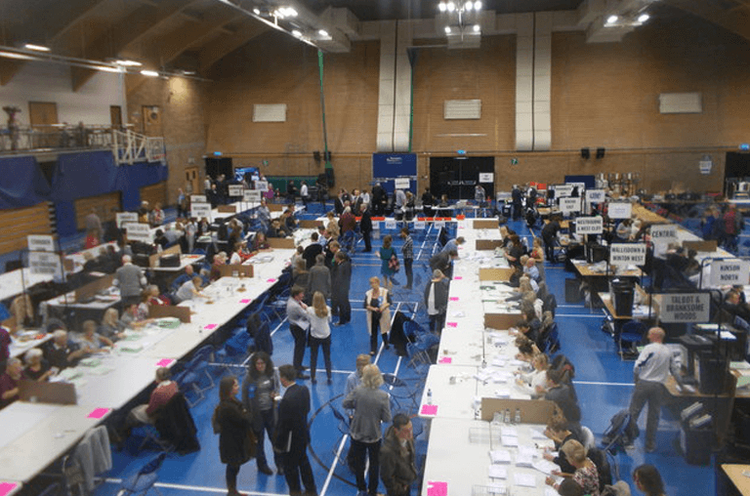 Fifty percent of British voters said they want a general election immediately, while nearly three quarters want one in at least the next six months, according to a new WeThink poll. 
The percentage of Brits who want an immediate election surged by 10 points to 50 while the poll also revealed 72% of Brits want an election in the next six months, a rise of five points from the previous week. 
The results come in a week where the Government set out its legislative agenda for the next year in the King's Speech and in which Home Secretary came under fire for comments about homelessness and policing.
The WeThink poll also found that Labour's lead over the Conservative rose by six points to 24 – the party's biggest lead since early August.
50
I want an election now (+10)
50
I don't want an election now (-10)
SUELLA BRAVERMAN – SHOULD SHE STAY OR SHOULD SHE GO?
Following her controversial comments this week about homelessness being a 'lifestyle choice' and for criticising the Met police for biased policing which favoured "pro-Palestinian mobs", Home Secretary Suella Braverman is under fire.
WeThink asked if voters agreed or disagreed with a few statements:
Firstly, 39% of people disagreed that she should keep her job as Home Secretary with 22% agreeing she should. 23% said neither and 16% didn't know.


 

More than a third (34%) of people disagreed that she is behaving appropriately as Home Secretary while 23% agreed she was. 24% said neither and 19% didn't know.




 

On policing, 38% of people agreed she was undermining the police with her criticism of the Met. 15% disagreed while 27% said neither and 21% didn't know.




 

More than a quarter (26%) agreed that Braverman is anti-Islam, with only 17% disagreeing, 33% saying neither and 24% didn't know.




 

And more than a third (35%) agreed she is undermining the Prime Minister with her comments while 13% disagreed. 31% said neither and 21% didn't know.
KING'S SPEECH – WHAT DID VOTERS AGREE AND DISAGREE WITH
WeThink also quizzed voters on whether or not they agreed with the policies set out by the Government in the King's Speech. We polled on all 21 policies (data is available on request) but here are some of the highlights:
The closest battle of opinion was on the Automated Vehicles Bill which seeks to allow autonomous vehicles to operate without safety drivers on roads for the first time across Britain.
37% disagree 

28% agree 

24% neither 

11% don't know 
There was majority support for the Criminal Justice Bill, which aims to give more powers to police to drug test suspects; seize stolen goods from properties without a warrant and various other new measures.
53% agree 

21% disagree 

19% neither 

6% don't know 
And half of voters backed the Offshore Petroleum Licensing Bill which sets out the licences for oil and gas projects in the North Sea to be awarded annually, under plans the government says will reduce reliance on foreign imports.
50% agree 

13% disagree 

24% neither 

13% don't know
There was also huge support for the Sentencing Bill which would create 'whole life' orders for the "most horrific murderers" while rapists will spend more time in jail.
68% agree 

12% disagree 

15% neither 

6% don't know
ON VOTER INTENTION
In our regular weekly voter intention trackers, the Prime Minister's net approval score maintained –19, while both he and Sir Keir Starmer now trail 'Don't Know' in WeThink's 'who'd be the best Prime Minister' tracker.
SIR KEIR STARMER APPROVAL
BREXIT TRACKER (All respondents)
18
Don't know / won't vote (-1)
BREXIT TRACKER (excluding don't know / won't vote)
This week's poll was conducted on 9th-10th November 2023, questioned 1,147 people and is weighted to a national representative population.
For all of WeThink's polling results and news, visit: www.wethink.report or follow WeThink on the following social media platforms: