Two fifths will vote Labour to oust Tories, new poll reveals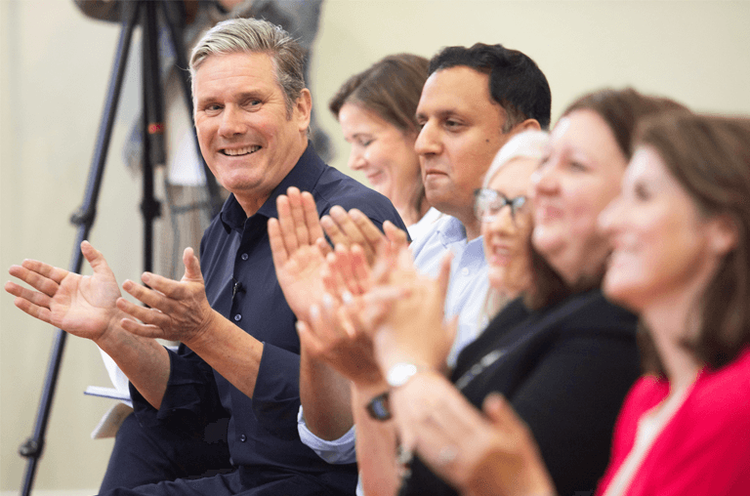 Two in five Labour voters will support Sir Keir Starmer's party to get rid of the Tory government, not because they're fans of Labour's policies, a new WeThink poll reveals.
When asked to characterise whether they felt their vote was more a vote for Labour policies or a vote against the Conservatives, 43% of Labour voters said they would vote red to oust the Tories from power.
A total of 57% of Labour voters said they were voting for the party because of the strength of its policies.
The news comes as Labour's lead in WeThink's weekly voter intention tracker fell by two points to 18 points over the Conservatives. 
INHERITANCE TAX – A FAIR DEAL OR UNNECESSARY BURDEN
As rumours swirl that Chancellor Jeremy Hunt may axe the Inheritance Tax, WeThink asked voters for their views.
Firstly, do voters think the Inheritance Tax is fair?
WeThink then asked what the threshold should be above which it is paid:
45% paid on assets over £1m

30% Inheritance Tax should be abolished 

7% paid on assets over £500k  

7% paid on assets over £2m  

6% paid on all assets  

4% paid on assets over £5m  

2% paid on assets over £10m
We also asked people what they thought the rate of the Inheritance Tax should be: 
37% - 40% rate 

30% - 0% / abolition 

29% - 20% rate 

2% - 60% rate 

1% - 80% rate
ON FIREWORK SALES
As we approach Bonfire Night in the UK, WeThink asked Brits which statement they felt most closely reflected their feelings about the sale of fireworks: 
55
Only for organised displays
34
Available to public, but only at certain times
11
Always available to public
ON THE FAB FOUR 
And finally, as The Beatles released their first new music in 25 years (and possibly their last-ever) this week. WeThink asked if people thought the Fab Four were still relevant to music in 2023...  
ON VOTER INTENTION
In our regular weekly voter intention trackers, the Prime Minister's net approval score has rebounded by six points to –19, while he also gained two points on Sir Keir Starmer in WeThink's 'who'd be the best Prime Minister' tracker.  
ON PRIME MINISTER APPROVAL 
ON SIR KEIR STARMER APPROVAL
ON BREXIT SENTIMENT
All respondents
19
Don't know / won't vote (-1)
Excluding don't know / won't vote
This week's poll was conducted on 2nd-3rd November 2023, questioned 1,155 people and is weighted to a national representative population.
For all of WeThink's polling results and news, visit: www.wethink.report or follow WeThink on the following social media platforms: